This following info is brought to you from http://www.thetwilightguard.org/
The Hanky Code (also known as the handkerchief code, the bandana code, and flagging) is a color-coded system, employed usually among the gay male or practitioners in the leather subculture in the United States, Canada, and Europe, to indicate preferred sexual fetishes, what kind of sex they are seeking, and whether they are a top/dominant (worn on the left) or bottom/submissive (worn on the right).
The origins of the Hanky Codes dates back to American cowboy during the mid- and late-nineteenth century. It is thought that the wearing of bandanas which was a common partice for men, originated in San Francisco after the Gold Rush, when, because of a shortage of women, men dancing with each other in square dances developed a code wherein the man wearing the blue bandana took the male part in the square dance, and the man wearing the red bandana took the female part (these bandanas were usually worn around the arm or hanging from the belt or in the back pocket of one's jeans). The modern hanky code started in New York City sometime in the late 1970 – early 1971 and has became a staple of the modern leather culture.
The first chart below shows the twelve most popular (as well as distinguable) colors in the Hanky Code, as well as their meaning listed just under the color name. The succeeding chart is the long list of colors and items.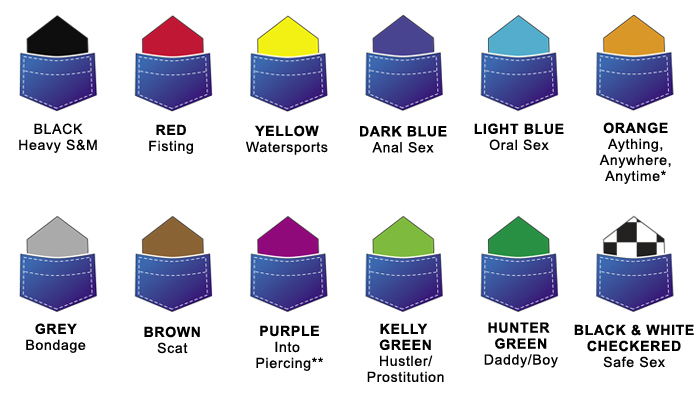 THE HANKY CODE — THE LONG LIST

COLOR
WORN ON LEFT
WORN ON RIGHT
BLACK
heavy SM top
heavy SM bottom

GREY

bondage top

fit to be tied!

BLUE, Light

wants head

cocksucker

BLUE, Robin's Egg

69er

anything but 69ing

BLUE, Medium

cop

copsucker

BLUE, Navy

fucker (top)

fuckee (bottom)

BLUE, Airforce

pilot/flight attendant

likes flyboys

BLUE, Light w/WHITE Stripe

sailor

lookin' for salty seamen

BLUE, Teal

cock & ball torturer

cock & ball torturee

BLUE, Turquoise

cathetizer

catheterizee

RED

fist fucker

fist fuckee

MAROON

cuts

bleeds

RED, Dark

2-handed fister

2-handed fistee

PUCE

bruiser

bruise me

PINK, Light

dildo fucker

dildo fuckee

PINK, Dark

tit torturer

tit torturee

MAUVE

into navel worshippers

has a navel fetish

MAGENTA

suck my pits

armpit freak

PURPLE

piercer

piercee

LAVENDER

likes drag queens

drag queen

YELLOW

pisser/WS

piss freak

YELLOW, Pale

spits

drool crazy

MUSTARD

hung 8″+

wants 8″+

GOLD

two looking for one

one looking for two

ORANGE

anything anytime

nothing now (just cruising)

APRICOT

two tons o' fun

chubby chaser

PEACH

bear

cub

CORAL

suck my toes

shrimper (sucks toes)

RUST

a cowboy

a cowboy's horse

FUSCHIA
spanker
spankee

GREEN, Kelly

hustler (for rent)

john (looking to buy)

GREEN, Hunter

daddy

orphan boy looking for daddy

OLIVE DRAB

military top

military bottom

GREEN, Lime

dines off tricks (food)

dinner plate (will buy dinner)

BEIGE

rimmer

rimmee

KHAKI

wears a uniform

loves a man in uniform

BROWN
scat top
scat bottom
BROWN LACE
uncut
likes uncut
BROWN SATIN
cut
likes cut
CHARCOAL
latex fetish top
latex fetish bottom
GREY FLANNEL
owns a suit
likes men in suits
WHITE
beat my meat (J/O)
I'll do us both (J/O)

HOLSTEIN

milker

milkee

CREAM

cums in condoms

sucks cum out of condoms

BLACK w/WHITE Check

safe sex top

safe sex bottom

RED w/WHITE Stripe
shaver
shavee

RED w/WHITE Check

brander or cutter

brandee or cuttee

RED w/BLACK Stripe
furry bear
likes bears
WHITE LACE
likes white bottoms
likes white tops
BLACK w/WHITE Stripe
likes black bottoms
likes black tops
BROWN w/WHITE Stripe
likes latino bottoms
likes latino tops

YELLOW w/WHITE Stripe

likes asian bottoms

likes asian tops

BLUE, Light w/WHITE Dots

likes white suckers

likes to suck whites

BLUE, Light w/BLACK Dots

likes black suckers

likes to suck blacks

BLUE, Light w/BROWN Dots

likes latino suckers

likes to suck latinos

BLUE, Light w/YELLOW Dots

likes asian suckers

likes to suck asians

RED/WHITE GINGHAM

park sex top

park sex bottom

BROWN CORDUROY
headmaster
student
PAISLEY
wears boxer shorts
likes boxer shorts
FUR
bestialist top
bestialist bottom

GOLD LAME

likes muscleboy bottoms

likes muscleboy tops

SILVER LAME

starfucker

celebrity

BLACK VELVET
has/takes videos
will perform for the camera
WHITE VELVET
voyeur (likes to watch)
will put on a show

LEOPARD

has tattoos

likes tattoos

TAN
smokes cigars
likes cigars
TEDDY BEAR
cuddler
cuddlee
KEWPIE DOLL
chicken (under-aged)
chicken hawk (likes them young)

DIRTY JOCKSTRAP

wears a dirty jock

sucks dirty jocks clean

JOCKSTRAP, Any color

wears one

likes jockstraps

DOILY
tearoom top (pours)
tearoom bottom (drinks)
MOSQUITO NETTING
outdoor sex top
outdoor sex bottom
ZIPLOC BAG
has drugs
looking for drugs
COCKTAIL NAPKIN
bartender
bar groupie

KLEENEX

stinks

sniffs

KEYS IN FRONT
has a car
looking for a ride
KEYS IN BACK
has a home
needs a place to stay
HOUNDSTOOTH
likes to nibble
willing to be bitten

ARGYLE

geek

likes sexy nerds

TARTAN, Caledonian

fully clothed

fully naked

UNION JACK
skinhead top
skinhead bottom

CALICO

new in town
tourists welcome

CHAMOIS

rides a motorcycle

biker groupie

TERRYCLOTH

bathhouse top

bathhouse bottom

WHITE w/MULTICOLOR Dots

hosting an orgy

looking for an orgy